Sale!
Description
Welcome to a personal self reflection process that focuses on the Quantum Questions that get to the heart of who YOU are being, what you are truly committed to, and how to align your authentic self to your actions and behaviours with greater personal self mastery!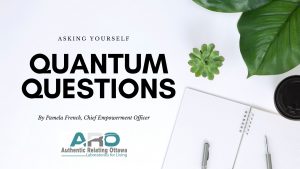 There's no doubt that asking yourself Quantum Questions will give you access to a world of possibility that may have been hidden from your view until now. I know, because I've been studying and being with these types of questions for well over two decades now myself.
Quantum Questions are similar to "koans" in traditional Buddhist philosophy. Where the process of inquiry itself is the focus and being open to whatever may arise as the inquiry unfolds is a personal self mastery skill!
I've been on the path of discovery and learning about the fundamentals in personal self mastery for well over two decades now and I'm very excited to bring you into my world of year-end review and preparing for the year ahead in this very empowering deep dive.
When you sign up you'll receive:
a PDF guide to help you deepen your journaling and self reflection.
access to a private facebook group for those of us on this Quantum Question journey
regular opportunities to share and receive encouragement and compassion as you journey on your path of self discovery
other special gifts offered to this community of people dedicated to discovering their own personal power to create, communicate and come alive in living life from a place of authentic power
I look forward to sharing in this journey with you. It's my honour to welcome you into my own process, and to serve you as you journey through yours.
Yours in empowerment,
Pamela