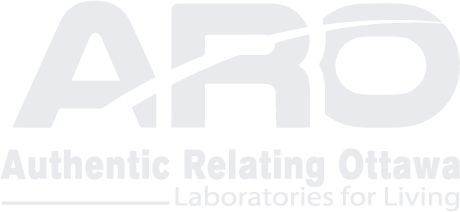 Authentic Relating Ottawa (ARO) offers events and services that increase relational intelligence and the use of conscious communication skills to overcome awkward, boring and cyclical conversations that strengthen your ability to cultivate relationships you love, trust, and respect – be it at work, at home, with friends, or with strangers through meaningful conversation! Imagine what's possible when you know you have the power to communicate in a way that inspires you and others…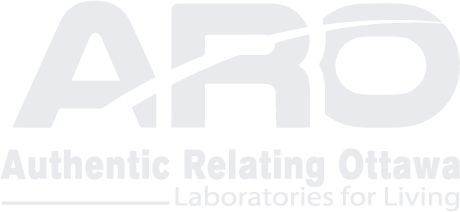 Authentic Relating Ottawa (ARO) offers events and services that increase relational intelligence and the use of conscious communication skills to overcome awkward, boring and cyclical conversations that strengthen your ability to cultivate relationships you love, trust, and respect – be it at work, at home, with friends, or with strangers through meaningful conversation! Imagine what's possible when you know you have the power to communicate in a way that inspires you and others…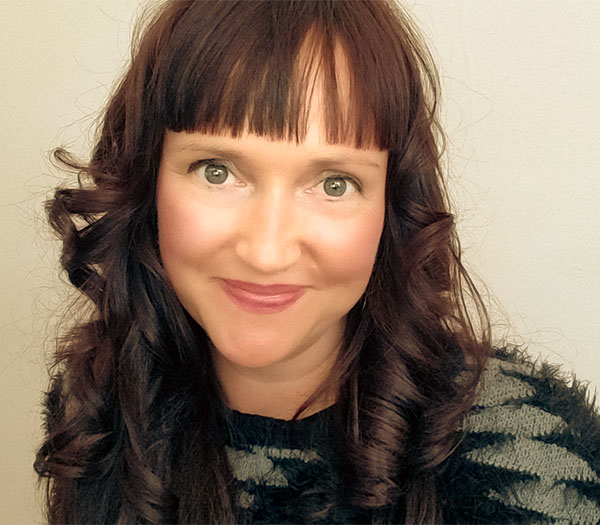 Meet Pamela French
Pamela French is the Chief Empowerment Officer and Co-Founder of ARO. She is passionate about creating experiences where participants develop their relational intelligence skills and transform their lives using conscious communication skills! When she's not leading events or coaching clients, you can find her on the family farm learning new construction skills to build a granny suite for her mother!

Authentic Relating Ottawa (ARO) held its first event in a backyard in Ottawa with 17 brave individuals in attendance, and a few thousand have stepped into the Laboratory for Living since!
Our intention is to be a community of people who value curiosity, personal growth, and meaningful conversations to contribute to a world that works for everyone, no matter our differences. Who doesn't want to feel more seen, heard and respected for who they are, and what they are experiencing in life? Imagine being able to give the gift of meaningful conversations to those you care about…
ARO creates highly specialized events designed for participants to experience unprecedented opportunities for genuine connection. It is proven that growing relational intelligence increases TRUST, INNOVATION, CREATIVITY and PRODUCTIVITY within any group, team, or organization.
Upcoming Events
ARO creates highly specialized events and spaces designed for participants to experience unprecedented opportunities for connection.
Individuals come to 'get present' – to themselves, and to others – for the purpose of discovery and play through participation in communication-style games, workshops, group coaching, one-on-one coaching and retreats.
I have consistently participated in these Authentic Relating events over the past 4+ years. These events provide me with the opportunities for personal growth in the mental, social and emotional components of my overall personal wellness. Pamela invites us into the "Laboratory for Living" where she creates a safe, trusting environment where we are able to respectfully connect with others and be genuine, caring and authentic. This allows me to freely express myself and be vulnerable without being judged and I am able to take what I learn out into my daily life too! I discover something new about myself and some "ah ha" moment that brings clarity every time. I finish each event feeling better about myself, better about others, more confident and ready to lean into my vulnerabilities. My curiosity is fueled to further continue growing and communicating out in the world!
I went to the 2nd authentic relating games 5 1/2 years ago, and have been countless times since. I cherish the safe space Pamela creates for deep connection – being seen and heard – that nourishes my soul. AR games taught me what human connection really is. It gifted me with new ways of consciously communicating that have opened new realms of depth in all of my relationships and didn't realize were possible before. It has changed my relationship with myself in a way that I believe you can only understand by experiencing it for yourself. AR Games never gets old, I'm always learning new things about myself, so if you like self-discovery and personal growth, you'll want to play in the laboratory for living with this incredible community!
Hesitant to try AR Games online? I felt similarly at first. But I tried it and every video call I've had since, I've been surprised by how deeply connected I can feel in online experiences! During these times of physical distancing, more than ever I appreciate the magic of connection that can still be viscerally felt online. If you're not familiar, Zoom has "breakout groups" which allow you to be with partners or small groups that create an intimate experience from the comfort of your home! I highly recommend, invite, and encourage you to try out Authentic Relating Games online to see what it can be for you!
Pamela is one of the wisest and fun coaches I know. Her work with Empowerment is Everything and Authentic Relating Ottawa has inspired me and helped me challenge my ways of dealing with my own life, relationships, and work. Her holistic approach, intellectual precision, and warm/kind attitude can be a superweapon to ignite your self-mastery journey.
Working with Pamela is a true pleasure. The care, creativity, and compassion she brings to her work is inspiring. I look forward to collaborating on future projects!
I have been working with Pamela for several years and her coaching has made a big difference for me, both professionally and personally. Have a big interview coming up or just need to move beyond whatever is holding you back? Work with this fabulous human being! Time flies with Pamela. You will come out of a session focused and re-energized, and you will see results. I have also referred her to friends who have had success as well.
Renée Michaud talks about her experience in the Authentic Leadership and Facilitation Training held in March 2020 by Pamela French, Chief Empowerment Officer of Authentic Relating Ottawa.
Seema Rani talks about her experience in the Authentic Leadership and Facilitation Training held in March 2020 by Pamela French, Chief Empowerment Officer of Authentic Relating Ottawa.
Thoughts from ARO participants
"ARO is amazing! The connections made during these events are real where people shine with their authentic selves. The evening's games are always very well planned and facilitated by Carmen and Pamela!"
"This group is wonderful. It is very well organized, playful and thoughtful. There's always food for thought coming out of these meetings."
"I appreciate how well the two facilitators hold space for participants, in a safe, fun and authentic manner. I really enjoyed meeting new people in a meaningful and present way. Grateful for all the learning and look forward to the next one."
"Awesome, as usual! Time well spent!"
"Very well organized and friendly atmosphere. Thanks to the organizers"
"A wonderful, fun and safe experience. Thank you everyone for helping me to learn how to really listen to another person and to remain connected in the moment."
"A wonderful group of truly genuine folks that makes it so easy to be open and authentic."
" Great games to connect with others. Very safe space. Thanks much! "
" Very welcoming and supportive. "
"Always excellent and stimulating."
"Amazing experience! Thank you everyone!"
" It's so amazing to find this type of connection – again and again – with strangers and with a growing community of friends – all through playing inside the laboratory for living! 🙂 "
"A fun and safe place to learn about relating."
"ARO is like really looking into a mirror and seeing yourself in a whole different way – without judgement, without biases, without filters and most of all, with complete honesty."
"Fun, fabulous & deep – A rare treat of an experience. Playfully evocative of essential connection. A must attend."
Clients we've worked with
Follow us on Instagram
to learn more conscious communication skills